While I was
reading a nice (German) item about the rough beginnings of the Roller Derby sports
, I discovered this interesting picture that was included in the picture collection.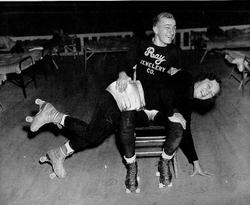 Surprisingly it does not show Roller Derby girls spanking each other wayback then, but Roller Derby girl Josephine "Ma" Bogash being taken over the knee by her son Billy.
What was not mentioned, however, was that Billy actually formed a Roller derby team with his mother - the first team of this sort in the history of Roller Derby.
Billy himself had quite a terrific Roller Derby career afterwards and was inducted into the National Roller Derby Hall of Fame in 1953.
---
I found this one originally on Ebay - "Whipping John" apparently is about to live up to his name while his victim is lifted up by a man. Another girl holds up her dress.
This illustration is supposed to be from the year 1748. I managed to find a higher resolution version on the web!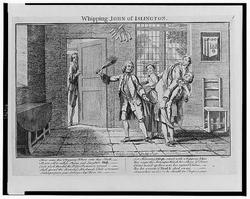 The artist obviously thinks all the other participants should be whipped rather than the wife. The text reads (I believe):
How came this Flogging Whim into thy Skull,
Thou´rt sold to endless Shame and Laughter, Hull,
Each Lash that did the Wife´s Posteriors wound,
Shall spread the shameless Husbands Tale arround,
Ladies prepare your Scourges, lay them on
Let Horseing Joseph smart with whipping John
Nor scape the Strumpet Wench her Share of Fame
Other turn´d up than was her injur´d Dame,
Nor let unnotic´d Hend-k slink away,
Somewhat methinks her should for Peeping pay.
---
And here is a cute postcard. I don´t believe her.
---
I have also added lots of pictures to the Vintage gallery. A good number of them came from
Richard´s sites
, others from TumblR or other blogs.