Here are two new Star Wars spankings that I found at DeviantArt - Padme spanks Ahsoka - and Princess Leia gets the treatment for Disney princesses.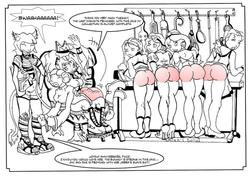 You´ll find my
Star Wars triology here, by the way!
---
And this is a lucky find from the web.
Lexa Lusty "trains" Dallas Cowboy cheerleader Colleen Meghan on stage - warning: includes not just spankings...