Here´s an excellent find by js666. He added this description:
In 1945 a young woman was apparently convicted of a petty offense -- public drunkenness, IIRC -- and the judge sentenced her a spanking from her husband. Newspapers had a lot of fun, including this from E.V. Durling, a well known gossip columnist
I´ve enlarged and sharpened it a bit for you:
---
We have already seen a glimpse of a flogging in Lars von Trier´s upcoming
Nymphomaniac
. Thanks to Spankingaddict we now can take a look at the build-up!
Nymphomaniac appetizer - Chapter 6: The Eastern and the Western Church (The Silent Duck) from Zentropa on Vimeo.
---
And finally, meet Charlie Sheen´s new girlfriend, Brett Rossi.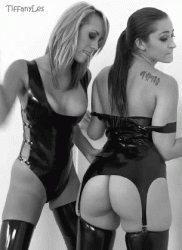 (on the left - click to see the animation! A clip for it is
here (NSFW)